Khurram Schehzad
President & CEO
Khurram has served in various leadership roles across key financial disciplines i.e. Investment Banking, Equity Strategy, Corporate Finance Advisory, Discretionary/Non- Discretionary Portfolio Advisory and Asset Management. He previously worked with JS Group as CCO and Executive Vice President – Investment Banking, and has also served as EVP – Director, Investment Strategy, Research and Sales at Arif Habib Group. Prior to Arif Habib, he served at Lakson Group's Lakson Investments with AUMs at US$ 150 million (amongst top-10) where he served as the SVP – Chief Investment Officer where funds' performance under his supervision remained in top quartiles while the listed Equity Fund achieved top position first time since its inception.
He was ranked as one of the Top Analysts in Pakistan (by CFA Society) consecutively for 2008-09, 2009-10 and 2011-12. He also received extensive credits by "ASIAMONEY" for valuable research- backing in relation to the Best Debt House 2010 award to his employer.
He has been appointed by the Government of Pakistan as the Youngest Member of the Board of the Privatization Commission where he has actively contributed to the recent successful privatization deals. He has also been appointed as one of the Youngest Executive Committee Members of the Board of Investment where he's actively contributed to the country's investment policy making. Khurram is an Independent Evaluator of the HEC/WB Technology Fund, and also part of Panel Experts of the Special Technology Zones Authority (STZA). He is also a certified Director from Pakistan Institute of Corporate Governance. He is also a Member of the global Advisory Council of the Harvard Business Review (HBR) in addition to being a Member of the South Asian Corporate Advisory Council.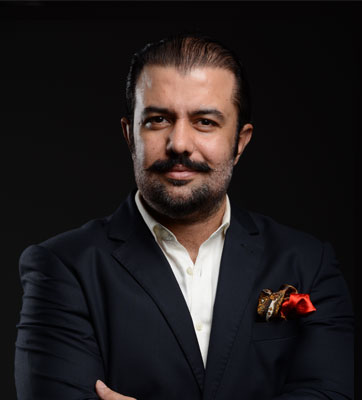 Farhan Bashir Khan
Managing Director
Farhan has more than 15 years of diverse experience in the Asset Management, Banking, Family Office and Brokerage industries. He has been member of the Investment Committee at UBL Fund Managers, Pakistan's premier AMC and a wholly-owned subsidiary of UBL Bank Limited, overseeing AUMs worth US$ 600 million. Farhan was also member of Investment Committee at Lakson Investments, part of Lakson Group having AUMs worth US$ 150 million. As Head of Research, Farhan's core areas of expertise are Macroeconomic Research, thematic view of the market, Asset Allocation strategy and Equity & Fixed Income Research.
He also serve as member of Investment Committee at NIB Bank, having a US$ 1.0 billion deposit base (owned by Temasek Group of Singapore, later merged with MCB Bank), where he performed his duties as Economist and Market Analyst at Treasury & Capital Markets Group (TCMG). He also performed additional functional role as secretary of bank's Asset Liability Committee (ALCO), under chair of the President.
He also authored and presented a detailed Competition Assessment Study on Fertilizer Sector in Pakistan to key sector stakeholders, under mandate of Competition Commission of Pakistan and World Bank. He was also associated with brokerage firms including IGI Finex Securities and Invest Capital Markets Limited. He did his Masters in Business Administration and maintains an avid interest in global Macroeconomic challenges and the role of disruptive technologies.